Welcome To Our
Finance Center
Audi Oklahoma City Can Help Make Those Dreams Affordable
The biggest hesitation potential car buyers face centers around the concern of whether or not they can afford it. At Audi Oklahoma City, not only are we the preferred Audi dealer in the area, but our finance center will work with you and your budget before anything is signed on the dotted line. An Auto Loan or Car Lease could very well be a viable option for you. We'll collaborate with you on everything from interest rates to your credit score and credit reports.
The auto-shopping experience is a fun and exciting one. Stop by our finance center today and let us help you make sure it stays that way.
Financing A Vehicle Is A Great Avenue For Some To Take
When you lease a vehicle, you eventually turn that vehicle back in. Like many car shoppers, the endgame is about ownership. That's where financing a vehicle can be a good option. This road lets you to make payments for a certain length of time. The beauty is that at the end of that term, the car is all yours with no more payments. And, you may have also built equity in your vehicle based on those payments. Other highlights of financing are the ability to customize the vehicle to your liking and drive as many miles as you wish. Since you own the vehicle, you are also free to sell or trade it in at any point after it is paid off.
When you finance your new car, you are paying its full price over the course of your contract, which means your monthly payment may be higher than if you were leasing the vehicle. To Compare/Contrast your options, visit Audi Oklahoma City today.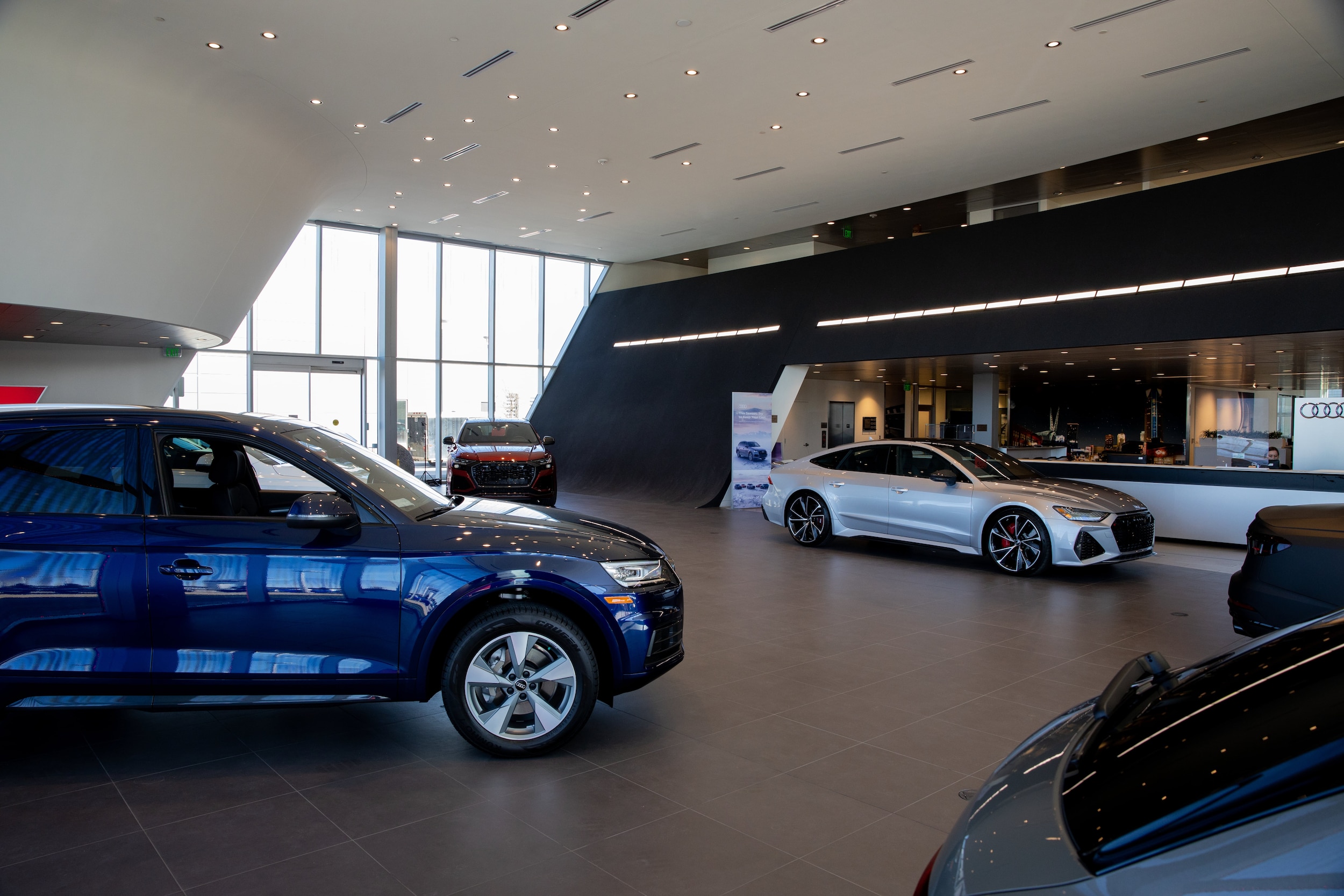 For Your Next Move Consider a Car Lease, Oklahoma City
When shopping for a New Audi, Certified Pre-Owned or Used Vehicle, dropping one lump sum just isn't an option for many people. At Audi of Oklahoma City, we completely understand that, which is why we have an entire Finance Center in place to help you with a decision that is both comfortable and within your budget.
One option many shoppers opt for is Leasing Their Vehicle. For some people, it can be a better option than an auto loan. A car lease differs from a car loan in several key ways, one of which you may find to be the best fit for your financial situation. For starters, leases generally translate into lower monthly payments and typically require shorter commitments than car loans.
When considering a lease, one thing to keep in mind is that lease agreements include limits to the number of miles you can put on the vehicle. So, if you are a driver who's day-to-day driving activity involves shorter commutes, a lease can be ideal for you.   For more information about a car lease, visit the finance center at Audi Oklahoma City today, the preferred Audi dealership in Oklahoma City.
Get The Process Started Online
When considering your first move with auto financing, we invite you to visit Audi Oklahoma City online for a list of our financing options. Not only will you find hordes of information about our products and services, from financing to Parts Specials and Service Specials. You can also begin the process by filling out a Credit Application. All financial material you provide are encrypted before transmission and are never sent as clear text.
Of course, you can also get an early look at our extensive inventory of New, Certified Pre-Owned, and Used Vehicles online. Visit our Audi dealership in Oklahoma City today.
Visit Audi Oklahoma City For All Your Automotive Needs
At Audi Oklahoma City, we know that the car-buying experience is a big step. We also know that big steps need to not be bogged down by stress or concern. When you visit our finance center, about the only thing you can't get from us is pressure. We will simply meet with you to explain all the different ways you can obtain that car of your dreams. We have an entire finance center dedicated solely to helping get more drivers in and around Oklahoma City back on the road in comfort and style. Whether it's to take a test drive, talk lease deals, loan term or loan amount, we can help.
There's no down side to coming in for a visit. You may be quite surprised by not only all the ways you can finance your new car, but also by how affordably you can do so. Visit Audi Oklahoma City today.
---