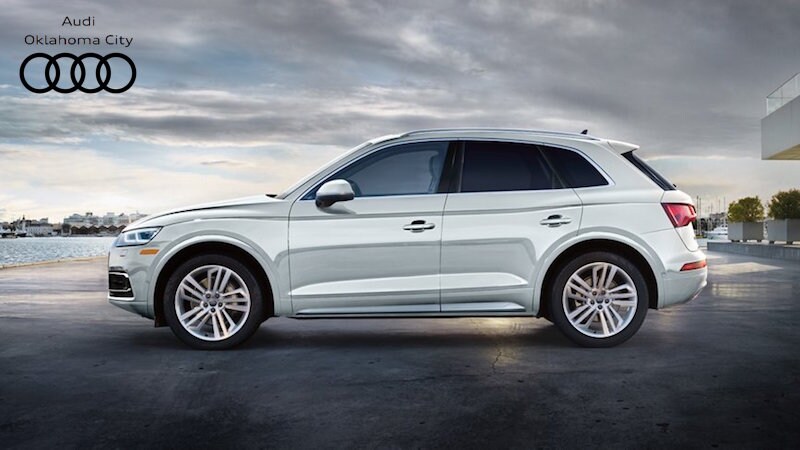 Audi Q5: Urbane Class and Unrivaled Comfort Redefined
If you're looking for an exciting new Audi Q5 in Norman, Oklahoma, get everything you want with the pros at Audi Oklahoma City.
Few car brands come to mind when you think of the word, "class." Of course, Audi is chief amongst them and their exciting and sleek new Q5 compact crossover is no different. Here at Audi Oklahoma City, our showroom is packed with these luxurious new rides.
Luxury Looks, Luxury Performance… Yet Easy on the Wallet
When it comes to luxury vehicles, Audi more than holds its own against other European brands. With top-end performance and high-minded styling that quietly yet boldly assure luxury, you'll realize that the
Audi Q5
delivers an experience quite unlike any other.
Of course, one thing that sets an Audi Q5 apart from those other luxury brands is the price tag. Starting at prices that are beyond reasonable, you can get yourself into unrivaled luxury without breaking your bank. Meaning that, whether you knew it or not, the luxury ride you've always wanted is well within your reach.
This Is Not Your Father's Audi
In the past, luxury may have meant that you had to sacrifice performance. Those big, air-soft boats of yesteryear, with their voluminous cabins and cushy, unfeeling rides may have been the definition of luxury in your parents' era. Lucky for you, that's not the case anymore. Audi loaded the new Q5 up with a thrilling 252-horsepower, turbocharged four-cylinder motor, mated to a seamless seven-speed automatic transmission. They also come with Audi's legendary Quattro all-wheel drive. Meaning you'll have more than enough zip and zoom to have a little fun in a new Q5.
All the Comfort and Connectivity of Home
Of course, a luxury vehicle wouldn't add up to much without one heck of a comfortable and intuitive interior. Despite its athletic stance and performance-minded power plant, riding in a Q5 is as laid back and relaxing as it gets. The gorgeous and well-appointed interior comfortably fits five adults, while top-of-the-line infotainment system that will keep you informed, entertained and, most importantly, safe. With a 7-inch and an available 8.3-inch touchscreen, Apple CarPlay and Android Auto, and Wi-Fi hotspots all standard, you'll feel more connected and in control of your vehicle than you ever have before.
Representing Our Community Through Core Values
Respect, honesty, integrity, and trust: that's what we believe in here at Audi Oklahoma City, and that's how we choose to represent ourselves our community. That means you won't find a better, more personalized car-buying experience in or around Norman, OK than you will here with us. It's why we've been lucky enough to do this for over five decades. So come visit us today, check out a new Q5 and let us wrap you up in premium Audi luxury.
Hours
Monday

10:00 am - 6:00 pm

Tuesday

10:00 am - 6:00 pm

Wednesday

10:00 am - 6:00 pm

Thursday

10:00 am - 6:00 pm

Friday

10:00 am - 6:00 pm

Saturday

10:00 am - 6:00 pm

Sunday

Closed
Make an Inquiry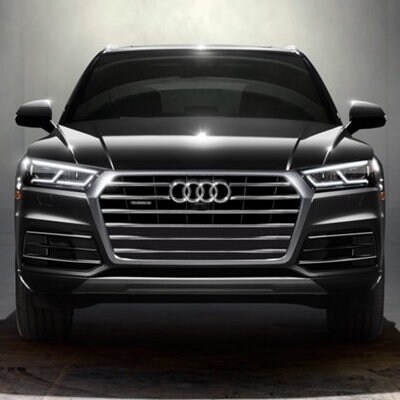 Why Buy from Audi Oklahoma City?
The answer is simple. You deserve a high-class, personalized experience on par with the high standards of quality, performance, and luxury that is synonymous with the Audi brand.
The Bob Moore Auto Group is dedicated to giving our customers and our community the very best - and that's what we've done every day for over 50 years. Our core values of respect, honesty, integrity, and trust are on full display with every single interaction. That, along with our state-of-the-art Audi sales and service facilities in here in OKC makes us the #1 Audi partner in the area. With the largest selection of new and pre-owned Audi models around, you're sure to get exactly what you want. Why shop anywhere else when you can have it all at Audi Oklahoma City?
We're All About YOU!
When you visit us, you can be confident that your specific needs are at the forefront of our minds. We will go to great lengths to ensure your total satisfaction - whether you're shopping or bringing your Audi to our team of service experts for parts, maintenance, or repairs. We're your ideal destination for everything Audi. All you have to do is show up and let us prove it to you.
Contact our sales and service teams for whatever you need. We'll always be there for you. It's time to experience the Bob Moore difference at Audi Oklahoma City. Welcome to your new home for all of your Audi needs.